Today marks a change in Spit Kit Eligibility rules along with a new home page to help make understanding them much easier.
Simplified Spit Kit Eligibility Rules
As participants join Genes For Good they consent to join the study, and the consent form explains the information we want participants to provide to be eligible for a free spit kit for genotyping. Until today this is what it took to become eligible:
Complete at least 15 Health History Surveys
Complete each of the seven Health Tracking Surveys at least two times and at least one week apart
That second part became difficult to explain clearly. Also, what happens when we add an eighth or ninth Health Tracking Survey? Today's new Eligiblity rules are much simpler!
Complete 15 Health History Surveys
Complete 20 Health Tracking Surveys
That's it! These rules apply to all new participants joining today and into the future. For existing participants we didn't want to raise the threshold on those Health Tracking Surveys, so the number to hit is 14. But either way it's just a simple count with no need to worry about the time in between completing surveys.
New Home Page
Perhaps the best benefit to simplifying the eligibility rules is that we can now make it much easier for participants to understand what they need to do in order to become eligible for a spit kit. Something like this is what a participant would see on the Genes For Good App Home Page if they are not yet eligible: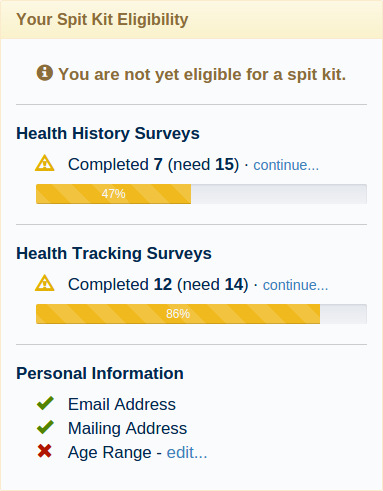 The idea here is to collect everything in one place, so as you get closer to becoming eligible you know exactly what you still need to do!
But what about the participants who are already eligible? Once achieved it's not as important to see eligiblity details; instead it's more important to see what's happening with getting, returning, and processing a spit kit. Today the home page now shows this information too. Here's what you might see if you're eligible and your spit kit has been sent to you: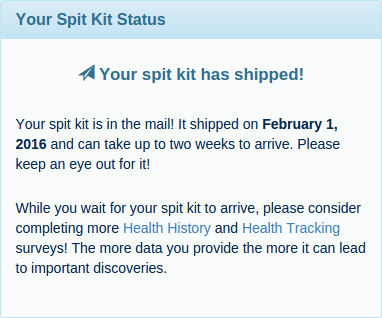 Whenever we have specific information, like the date your spit kit was mailed out or received, we'll show it to you. At each step of the process for your spit kit you can see the status updated on the home page in this way, from sending, to receiving, to validation, and even as it goes to the lab to be genotyped. Once your spit kit has been successfully processed and your ancestry and genetic data made available for you to see and download, you can expect to see something like this, right on the home page:
Of course not all participants even want a spit kit. Some participants have opted out of receiving one but still wish to provide information to the study by way of the Health History and Health Tracking surveys. For you there's no need to show you spit kit status, but we'll still track your eligibility and progress: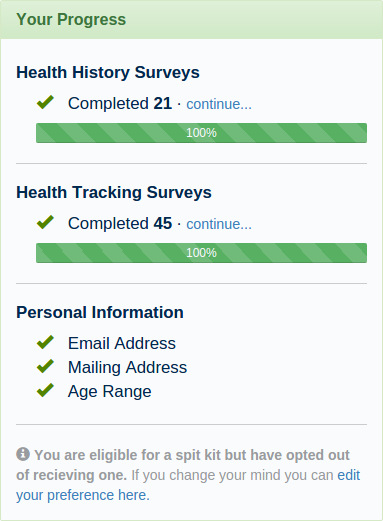 Even More New Stuff on the Home Page
Also on the home page today you might see some big buttons to help find your way to Health History and Health Tracking surveys or to Invite Friends to join  the study. We're also now showing some up-to-the-second stats on the size of the study in terms of total participants, completed surveys of both types, and genotypes analyzed.
Finally we're now pulling blog posts straight from the Genes For Good Blog right into the app! Maybe you're in the app reading this right now. A lot is happening with the Genes For Good study so we wanted to find a good way to keep app users up to speed without having to leave the app altogether.
Tell Us What You Think!
If you are a participant in the study we hope these changes make the study more clear and engaging. Please remember that even after you've become eligible for a spit kit we still want as much survey data as you're willing to provide! The more data we have the more it can lead to important discoveries in genetics and medicine.
And of course, we want to hear from you! Please tell us what you think about the latest changes happening in the Genes For Good study at our Facebook Page, on Twitter, or by sending us an email. We can't thank you enough for your participation and your feedback!